Best Custom Press on Nails UK
If you're looking for the best custom press on nails in the UK, this is the place to stop. 100% handmade, reusable and custom sized manicures, delivered to you wherever you are.
What Is SabzGlam Custom Press On Nails About?
Hi I'm Sabina (Sabz for short) and I love to create beautiful custom press on nails for all occasions. The idea behind my website is to be able to offer people great custom designs made just for them and get them delivered to their door, taking the hassle out of having to go out to a salon. Plus, saving money and time!
I have two sections to the shop, the preset press on nail sets which are my freestyle designs. I am continually designing new sets and listing them for you lovelies to choose from. I have included an Occasion nail set department, a Classics department, as well as Animal design set and Fruit nail section. Finally I have my GLAM collection which is designed to make you feel like a princess. I also have the pick and mix section where you can choose the nails individually to create a set. Select the design, size, length and shape for each individual nail. It's fun to create and you end up having the most unique nails. All nails are made to order and thats why we have our sizing chart to make sure you get the perfect fit for your nails.
And of course we have an easy to use form in case you want a completely custom press on nail design. You can leave an inspiration pic, photos of patterns you want or even the outfit you want the nails to be paired with. We can discuss your design and quote before you order.
Delivery For Custom Press On Nails Uk
The whole point of this website is to make it easy for you to shop at home and get your press on nails delivered with out even having to leave the door.
With our sizing chart you can easily work out your sizes, then using our options on the product page you can select a preset size or leave your custom sizes in checkout notes.
Creating A Custom Press On Nail Set
We are building this to be the best way to create a custom press on nail set by individually creating your whole set. Make your look the most individual wherever you're going, with our selection of individual nails.
You can select the size, length and the finger you want them on to make sure everything fits perfectly. You can leave your measurements in mm in checkout notes if you prefer.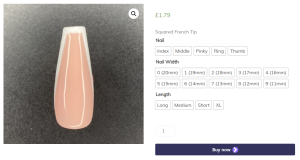 Press On Nail Content With Every Purchase
We don't just send you the nails and wish you luck trying to put them on. We provide you with everything you need to get your nails on.
And to apply them you we also provide you with an easy step by step guide to get them on easily and with out faults.

Why Shop With SabzGlam For Your Press On Nails UK
I am able to create and send your nails to your exact specifications. Certain designs may take a little longer if they require a large number of add ons or other detailing. I always make sure to put in time and care to make each and every custom nail set perfect. I never send out a set I am not satisfied with.
I always make sure everything is well packaged, and created with care to find itself in your house in a perfect condition.
Sabz Glam x